Katrina Ramsell Ph.D, DVM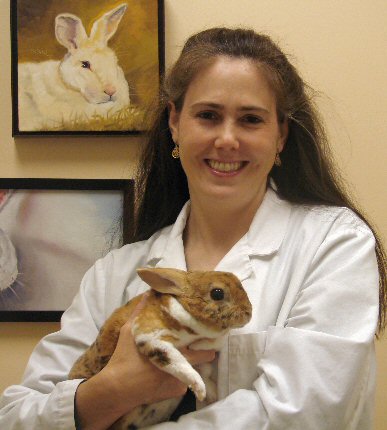 Dr. Katrina Ramsell was born and raised in a small Kansas town and received a Bachelor of Science in Cellular Biology in 1992 from the University of Kansas. She received a Doctorate in Neuropharmacology in 1997 and a Doctorate of Veterinary Medicine in 2000 from Michigan State University. Dr. Ramsell has had a passionate interest in ferrets since she was owned by her first ferret in 1986 and she attended veterinary school with the intention of becoming an exotic animal veterinarian. After working primarily with exotics as an associate veterinarian for seven years, Dr. Ramsell opened Northwest Exotic Pet Vet LLC in April 2008, where high quality care is provided exclusively to ferrets, rabbits, rodents, reptiles and other exotic pets.
Dr. Ramsell practices clinically applied research in hopes of helping to advance exotic animal medicine. Her research interests include genetic involvement in common ferret endocrine diseases as well as alternative therapies for diseases such as insulinomas, diabetes, heart disease, and lymphoma. In September 2003, she began investigative research on the emerging ferret disease Disseminated Idiopathic Myofasciitis and is currently focusing on potential etiologies and an effective treatment for the disease.
Dr. Ramsell is the President and shelter veterinarian for the Cascade Ferret Network and offers assistance to the Oregon Ferret Shelter. She is on the board of directors for the Rabbit Advocates and is on the Health Affairs Committee for the American Ferret Association. Dr. Ramsell holds memberships in the American Veterinary Medical Association, Oregon Veterinary Medical Association, Portland Veterinary Medical Association, Association of Exotic Mammal Veterinarians, and the American Ferret Association.
Dr. Ramsell has presented to various exotics groups both nationally and internationally, including the International Ferret Congress, Ferret Aid Society, American Ferret Association, Oregon Ferret Association, Great Lakes Ferret Association, and House Rabbit Society. Dr. Ramsell's articles have been published in Veterinary Clinics of North America: Exotic Animal Practice, Veterinary Pathology, Journal of Neuroendocrinology, Neuroscience Letters, Journal of Neurocytology, Society of Neuroscience Abstracts, Brain Research Bulletin, Federation of American Societies of Experimental Biology (FASEB), Exotic DVM, American Ferret Report, Rabbits USA, Ferrets magazine, and theCascade Summit.
Dr. Ramsell is married and has three sons, Benjamin, Matthew, and Daniel. In her spare time, she enjoys reading to her children, family road trips, science fiction movies, and playing the piano and clarinet. She is currently owned by three ferrets, Rico, Toasty, and Sacajawea, and a leopard gecko named Jedi.